Often located in urban areas or near busy highways, nurseries rarely benefit from the best environment in terms of air quality. However, many scientific studies warn about the risks of pollutants circulation in closed and confined spaces. Setting up a controlled indoor air renewal system is a risk control factor for occupants, especially the youngest.
30 to 60 breaths per minute: this is the permanent activity of an infant to oxygenate his body and his brain.
The Air Expertise Cluster of  Veolia, which has been working on the subject for several months, has joined forces with Ventilairsec, a French manufacturer of ventilation systems. The equipment and its efficiency have been evaluated by Veolia experts via the AIR Control service to offer a service called "Air4kids". A process of mechanical ventilation by insufflation (VMI ©) results in filtering and cleaning the outside air before blowing it into the living rooms, by expelling the stale air outside the building.
This solution, which aims to purify indoor air, has been installed in two nurseries in Region Ile-de-France. The results speak for themselves : parameters important for children's health (fine particles, volatile organic compounds, carbon dioxide) have returned to levels that comply with the recommendations of the World Health Organization.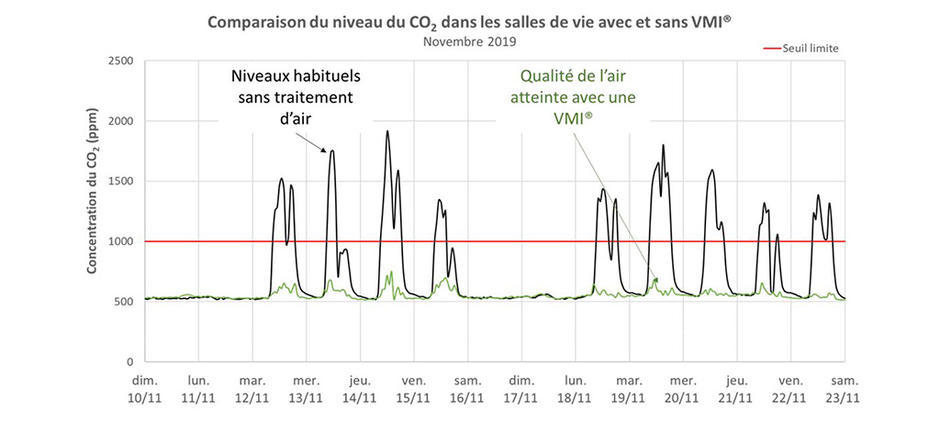 Air4kids, lauréat "UrbanLab et Airlab" 
45 projects contributed in 2018 to a call for experiments on air quality. Organized by the City of Paris, the Urban Lab (urban experimentation laboratory) and Airparif Airlab, this competition aimed at measurement, depollution, reduction at source, behavior changes and public information on air quality. Air4Kids was judged as one of the most innovative and relevant experiment.
With operation and maintenance optimized over time, Veolia and Ventilairsec are now able to offer nursery managers a complete offer to guarantee good air quality to children. The promise of a sustainable future.
Developed by the Air Expertise Cluster of  Veolia, Air Control consists of continuously evaluating and monitoring air quality. Air Control is to make the invisible visible, namely the various pollutants that alter the quality of the air.
Ventilairsec Group manufactures VMC (Controlled Mechanical Ventilation) by insufflation under the VMI® brand, to improve the quality of indoor air in buildings. Ventilairsec Group is a member of the accelerator for the energy transition set up by the State.